Gouache creates stylish specialty bags for the active, artistic urbanites and the adventure lovers.
The brand seeks to introduce canvas waxing to the local bag industry, a technique that requires each bag to be meticulously handcrafted and guarantees that each piece has a unique finish. No two Gouache creations are exactly the same, and like leather, your waxed-canvas bags age and grow more interesting as you wear them.
How it started
Recognized for their stylish bags and appeal among young professionals in the city, Gouache Waxed Canvas & Leather Goods continues to make their mark in both the local and international scene with their impressive handcrafted products. With each product sporting the classic look of leather paired with modern craftsmanship, it's no surprise that Gouache bags continue to be a hit for those living the contemporary urban lifestyle.
If one were to trace the success of Gouache, it definitely begins with the owners Louie Poco and Ann Enriquez. What started as an impulse for Louie to find a sensible and functional camera bag back in 2013 turned into an entrepreneurial stroke of genius: why not create our own bag? A successful crowd-funding stint in The Spark Project led them to partnerships with local bag makers and artisans in Marikina to create the first few batches of bags in the now unmistakable Gouache style. Their collaboration extends not only to design but also to project management solutions and market opportunities.
Since then, Gouache hasn't looked back--their expansive catalog includes, of course, the camera bags, but now they have it alongside satchels, pouches, aprons, camera straps, purses, totes, and other beautiful waxed canvas products.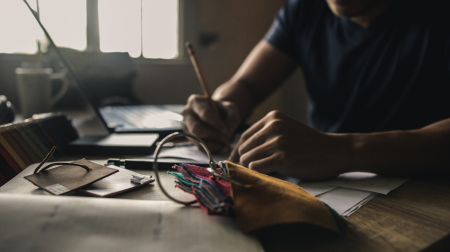 Special thanks to the Spark Project Team
Patch Dulay
Krz Lopez
Ian Corpuz
Pao Agloro
Noreen Bautista
RJ Aquino
Chux Gaza
Samantha Lim
We would like to thank our supporters ▼
Rennel Salumbre
Kim Patricia Silang
Roehl Nino Bautista
Patricia Stevenson
Jaime Antonio Nadal
Gil Russel San Padro
Eduvigis Ana Rivera
Aimee Lyn Tolentino
Michael Vincent Lee
Andres Pinga
M. John Espiritu
Daniel manicad
Kimberly Mendero
Guillermo Luz
hanna Fernando Pacua
Anthony John Rodriguez
Ian Rica Roxas
Eugene Perez
Terry Tai
Rolando Poco
Tal De Guzman
Olay Rullan
Ferlyn Landoy
Dean Erick R. Ignacio
Kelvin Go
Patch Dulay
Therese Valmonte
Remigio Ancheta III
Denise Llanos Dee
John Truman Tan
Julienne D. Mumar
Je Ombao
Natalya Ng
Genevieve Matabang
Ma. Kristine Alfonsine S. Bangsal
Felicia Angela Roque
Richard Co
David Cuenco
Nikko Allen Pascua
Allan Malubay
Darrell Baet
Marilyin Aquino
Kevin Choi Herrera
Lawrence Toledo
Quintin Jayson Roxas
Paula Marie Beredo
Luis Alphonso Gaza
Mark Ong
Elmer Shox
Briann Paolo Dy
Emmanuel Escalona Jr.
Sheila Mae Buenafe
Marriana Pascua
Irvinne Redor
Suzzane Rona Bermudez
RJ Aquino
Jennifer Non
Jan Michael Co
Lourdes Ti Yu
Kristin Militante
Patrick Cua
Jan Albert Galang
Patricia Regine Chung
Luzminda Dela Rama
Thomas Graham
Anselmo David Ultra

How it's made
OUR PROCESS • STAGE 1
Gouache creates initial sketches and designs for a product that can strike a balance between beauty and function. For each product idea, they usually have a specific target customer in mind.
OUR PROCESS • STAGE 2
They meet with the bag makers and artisans to discuss the best strategy to have the product come to life. They talk about revising the designs, sourcing of materials, and costing.
OUR PROCESS • STAGE 3
They assemble and test a prototype of the product--the main materials of Gouache revolve around the waxed cotton canvas, genuine cow leather, and the brass or antique finish hardware.
OUR PROCESS • STAGE 4
The product undergoes heavy testing for a few weeks, and Gouache along with the artisans make iterations and revisions whenever necessary until they see that it is fit for production.
OUR PROCESS • STAGE 5
Production and quality control begins. It can take up to a month for a bag maker to produce 100-150 units of a certain product, and they constantly check to ensure there are no defects or faults.
OUR PROCESS • STAGE 6
The Gouache products are then ready for distribution!